Heavy Fabrication
Openex Mechanical Tech – professional custom metal fabricators, has 14 years' experience of heavy fabrication in a variety of industries, including Machinery, Marine, Power and Energy, Aero Space, Infrastructure, etc. Our skilled technical team offers a vast range of fabrication, welding, machining, and assembly service from small metal parts to large and heavy bespoken components.


Application:
Our facility enables us to offer comprehensive custom metal fabrication services to customers all around the globe, our products had been applied to lots of aspects, like:
Machine bed, equipment frame/housing, crane beams, pressure vessels, diesel engine frame, structural steelwork, pipe or tubes fabrication, heat-exchanger tube sheet, large shafts, precision steel rings, turbine hub, steel cone, steel channel, steel pontoon, steel structure, flanges, vacuum chamber, etc.
Capability:
Ø Machining
Max Size:46000X8000X7000 mm; Precision:±0.05 mm
Ø Deep hole drilling
The maximum diameter: ¢50.8 mm; Maximum thickness:1100 mm; Roughness: Ra 1.6
Ø Multi holes drilling
Max Size:13000X6000 mm; Roughness: Ra 3.2
Ø Press Brake
Maximum length:15000 mm; Maximum thickness:100 mm
Ø Roll Forming
Maximum width:41000 mm; Maximum thickness:200(Cold),300 (Hot)mm
Ø Cutting
Laser Cutting Max Size: 2700X3500mm; Maximum Thickness:25mm; Tolerance:±0.3mm
Plasma Cutting Max Size:2500X3200mm; Maximum Thickness:70mm; Tolerance:±2.5mm
Waterjet Cutting Max Size:8500X4010mm; Maximum Thickness:200mm; Tolerance:±2mm
Flame Cutting Max Size:18000X5000mm; Maximum Thickness:300mm; Tolerance:±2.5mm
Ø Lifting
Maximum tonnage:250 t; Lifting tonnage:450 t; Height:25 m
Equipment View: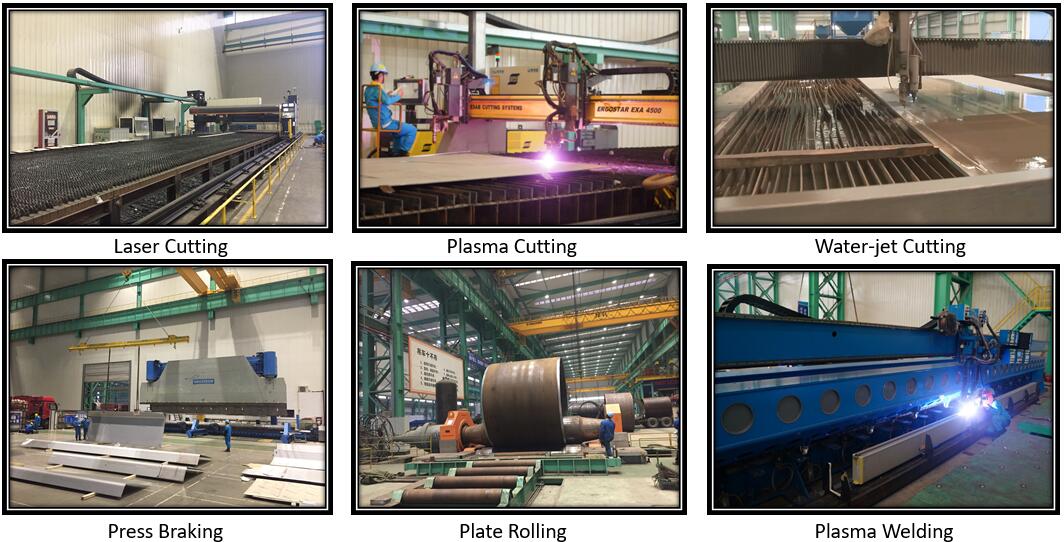 For more equipment please visit: http://www.cncmetalworking.com/equipment-machining/
Our advanced machining and fabrication equipment together with our highly skilled technical team offers us the confidence to provide quality ensured products to our customers, and we guarantee all of our products would be tested and checked meticulously before shipment.
Link to this article:Heavy Fabrication
Reprint Statement: If there are no special instructions, all articles on this site are original. Please indicate the source for reprinting.:Casting Wiki,THANKS!^^