What is steel fabrication?
Steel fabrication is the process of manufacturing machines or machine parts or structures from steel materials. The process includes slitting, cutting, bending, forming, welding, machining, and assembling to form the final products.
Steel fabrication projects Openex offered applied in many fields including Machinery, Rail Transit, Power/Energy, Boat/Bridge, Infrastructure, Oil/gas, Aerospace, etc. And the products can be anything such as metal parts, components, and assemblies involving single or combinative processes such as machining, metal fabrication, casting, forging, etc.
The benefit of Openex, a one-stop steel fabrication supplier, is the centralization of the steel fabrication processes that are required to be performed.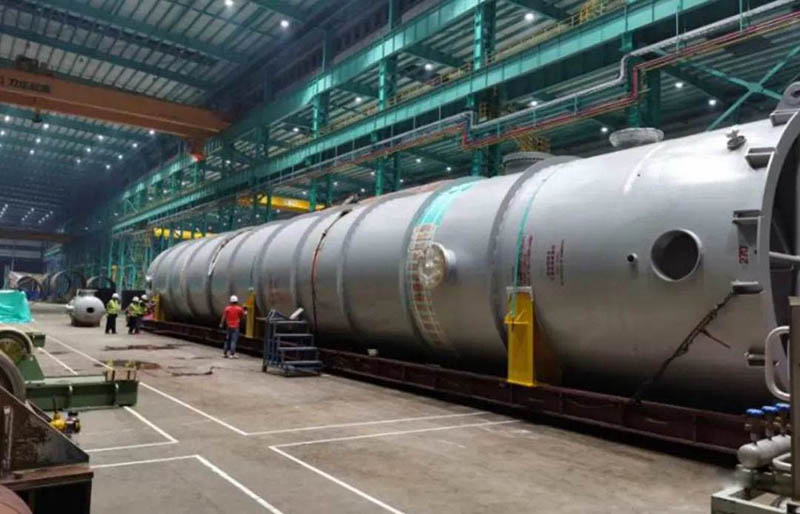 How does steel fabrication help the petrochemical industry?
Steel fabrication plays a very important role in the petrochemical industry. Almost all equipment in the petrochemical industry is supplied by steel fabrication companies. Much equipment used in the petrochemical industry is made of structural steel, and all kinds of critical parts are manufactured by steel fabricators. Heat exchangers, pressure vessels, columns, dust collectors, air coolers, and air heaters are some of the applications of steel fabrication in the petrochemical industry.
Heat exchangers
– heat exchanger is a system used to transfer heat between two or more fluids.
Pressure vessels
– the vessels are used in process installation for gas, oil, oil refining, petrochemical, and other industries, including inflammable and hazardous media.
Columns
– columns are designed for oil processing.
Dust collectors
– dust collectors are designed for natural gas cleaning of mechanical impurities and liquid at compressor stations of trunk gas lines.
Air coolers
– air coolers are designed for refrigeration of liquid and gaseous media heated in process cycle of different types of production.
Air heaters
– air heaters for gas turbine units of trunk gas line compressor stations are manufactured for replacement of plate type regenerators with expired service life.
We are one of the best fabrication companies in China, and we have word's class advanced manufacture equipment including over 100 sets of cutting equipment, over 100 welding equipment, large gantry machining center, 20 sets floor milling & boring machine, 30 multi-hole drilling machine, 11 deep hole punching machine, 14 sets turn-milling machines.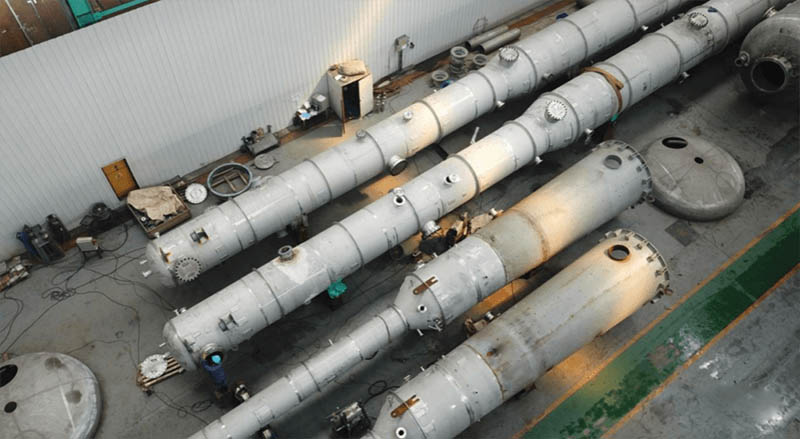 In mid-July, the steel fabrication works for 40 million tons/year refining-chemical integration project of ZPC and 20 million tons/year refining-chemical integration project of HENGLI PETROCHEMICAL shipped smoothly as planned.
At the project of ZPC, there are 31 sets of carbon steel columns weighing about ten thousand tons, 33 sets of stainless steel composite board equipment weight 1680 tons, and 5 heat exchangers weight 70 tons, which value about 200 million RMB. At the project of HENGLI PETROCHEMICAL, there are 2 fractionating columns for H-OIL, and the column is with a diameter of 4100mm (6100mm at the end) and length of 62m, weight 190 tons. And the fractionating column is made from Monel 400 composite board, and the material of the inner parts is Monel 400.
We've been working on offering steel fabrication and heavy machining service since we founded. In the past few years, we developed a lot in the manufacturing of petrochemical equipment, and in particular, a major breakthrough has been made in the general equipment of large-scale oil refining such as gas compressors, centrifugal compressors, heat exchanger, and so on. In the field of heavy or large petrochemical equipment (such as pressure vessels, columns, tank vessels, heat exchangers, etc.) manufacturing, we've recognized by a number of large chemical enterprises like Sinopec, Wanhua chemical, HENGLI Petrochemical, ZPC, Shenghong Group, Sasol, LLAG, etc.
Reach out to us to know more about our expertise in the area of steel fabrication and heavy machining.