Metal Fabrication for Abrasion-resistant Steel
Author: Howard Zhang Created: 16 July, 2021
In our fab shop, we manufacture customized metal parts with a variey of materials, including abrasion-resistant steels. Here we give a brief introduction to the property, grades, manufacturing processes and typical applications of this type of material.
How to Achieve Abrasion-resistant?
Abrasion-resistant steel, or wear-resistant steel, as the name implies, has good performance under circumstances of wearing or tearing, by comparison with normal carbon steel. But how are these properties achieved in the steel mills? Both the chemical composition and manufacturing processes play a key role.
Based on the low carbon steel, alloys are added for the sake of weather-resistant. In the meantime, in order to increase the hardness and toughness, additional carbon is required, although that's a two-edge weapon which will reduce the strength to some extent.
From forged steel blocks or ingots to finished abrasion-resistant steel coils or plates, quenching and tempering are critical processes. As the grain structure is modified, we can get materials with increased toughness and formability, and less brittle. It's important to make sure through-hardening instead of case-hardening or surface-hardening, during which the metal deeper beneath stays soft.
Material Grade and Selection
The grade numbers of abrasion-resistant steel vary from country to country and company to company. However, the number is usually controlled by a level of hardness, not a particular chemistry. Take the AR series as an example, following Brinell Hardness Number (BHN) which signifies the hardness level.
AR400: 360-440 BHN Typically

AR450: 430-480 BHN Typically

AR500: 460-544 BHN Typically

AR600: 570-625 BHN Typically
In many circumstances, we may observe grade numbers end with "F", such as AR450F. The letter "F" means "formable", indicating the material can be bent to some degree without cracking, and therefore, more costlier. But they are usually changeable to grade numbers without "F".
In selecting abrasion-resistant steel for a certain product, the designers should take precise balance between brittleness and hardness. In many cases, grades AR450 and AR500 can be considered as "sweet spots".
In China, the NM series, which means NaiMo and stands for high strength and abrasion-resistant steel in National Standard (GB/T 221-2008 and GB/T 17616-2013), is widely adopted, such as NM400, etc.
Fabrication Process
We have in stock abrasion-resistant steels of a wide range of grades, some of which are provided by famous steel mills such as Baowu Steel in China, others are imported from Japan, Sweden, France, Belgium, etc. Part of the material grades are listed as below, and the specification is 3.0-50 x 1250mm-3300mm x L.
NM360 / NM400 / NM450 / NM500

creusabro4800 / creusabro8000

ABREX400 / ABREX450 / ABREX 500

Hardox 450 / Hardox 500
Owing to the high strength and hardness, it's a challenge to deal with abrasion-resistant steel in the recoiling and flattening processes. Equiped with advanced machines, such as Italy-imported NOVA CT20.0, FIMI, VIGANO, we have the ability to handle steel with yield strength up to 1300Mpa and tensile strength up to 1600Mpa. We relieve the residual stress completely and obtain steel sheets or plates with fine flatness.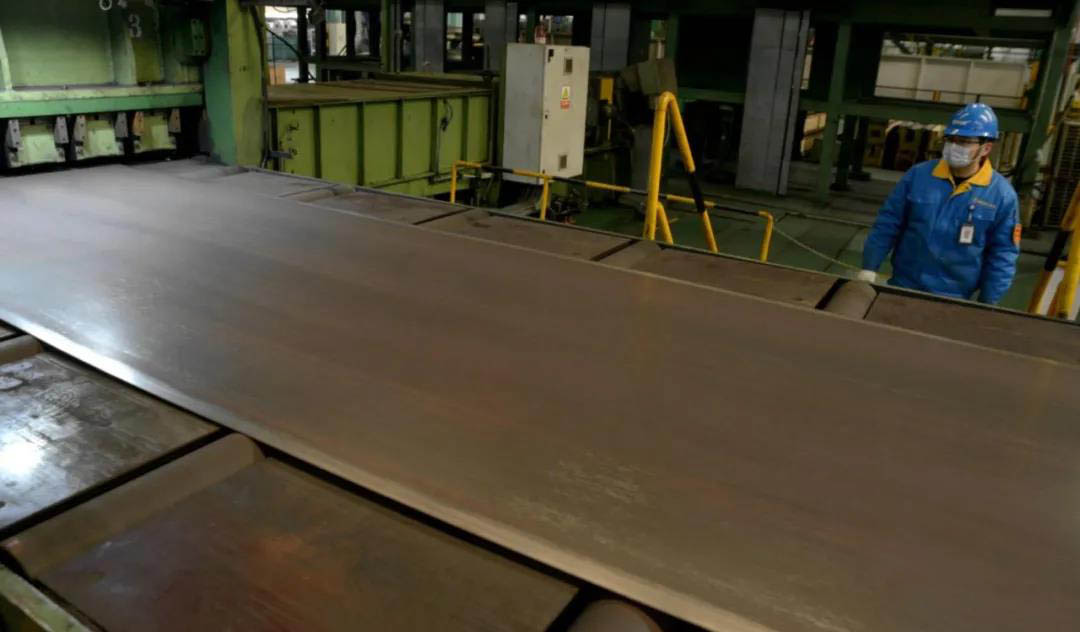 Recoil and flattening for tempering-free abrasion-resistant steel
After that, the main processes are laser/plasma/flame cutting, press braking (bending), rolling and welding, which are all finished in our workshop. Because of its high yield strength, the bending process is mainly undertaken by our press brakes with tonnage up to 2000T and 3000T. Our experienced engineers and technicians make any metal parts or components on customers' drawings come true.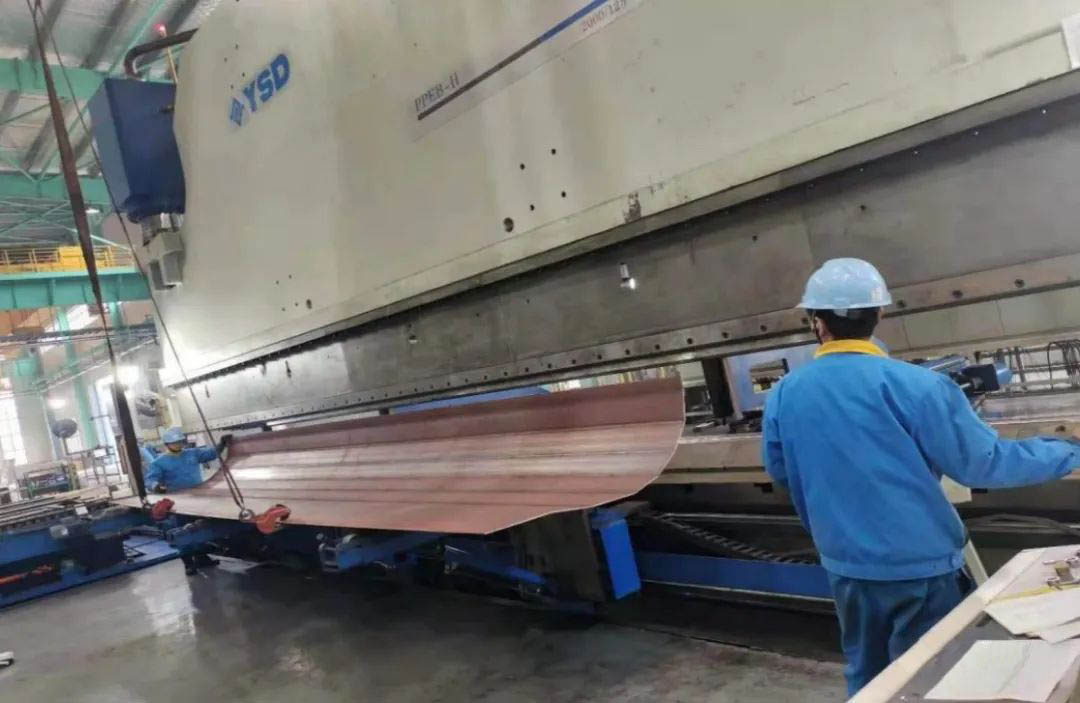 Press braking for abrasion-resistant steel NM450TP used in special vehicle
Typical Parts Made by Abrasion-resistant Steel
Besides excellent hardness and wear resistance, corrosion and impact resistance are also the benefits of abrasion-resistant steel, which are becoming more and more popular in many different industries, including agriculture machines, engineering vehicles, road rollers, construction, marines, etc. The fabricated steel parts are used as dump liners, grates, buckets, hoppers or bins, construction attachments, vibratory drums, conveyors, truck side panels, body armor, ballistic plates, targets at shooting range, etc. Some typical cases are introduced as below.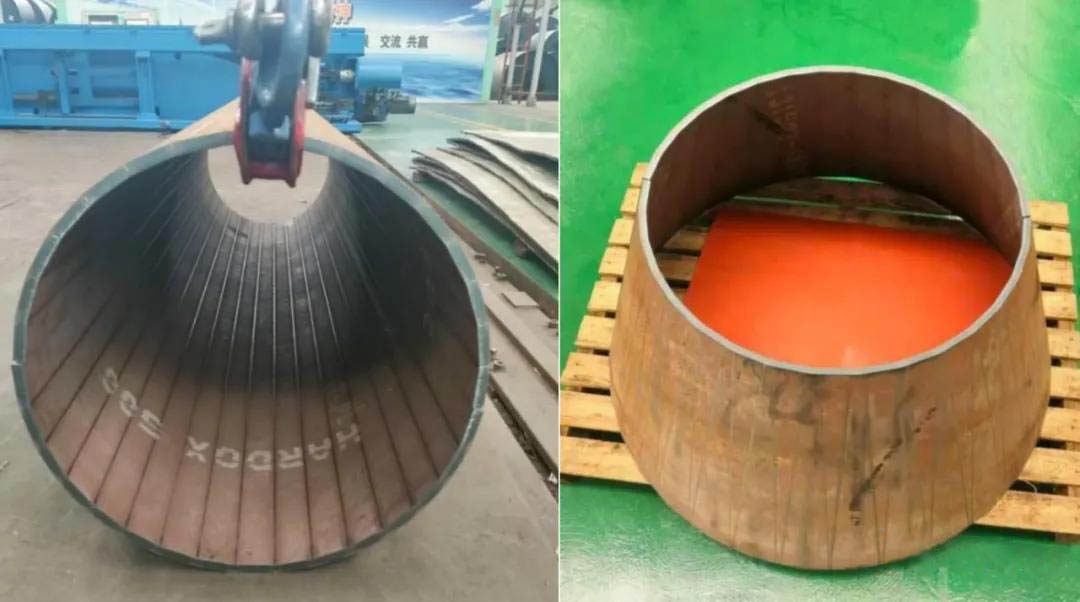 Pipe cone for marine equipment. The material is Sweden-imported HARDOX 500, an abrasion-resistant steel of bendable and weldable, with nominal hardness of 500HBW. Despite its good processability and toughness, it's very difficult to bend the steel plate more than 30 times and shape the pipe cone. We finished the task and reduced the deformation to the minimum.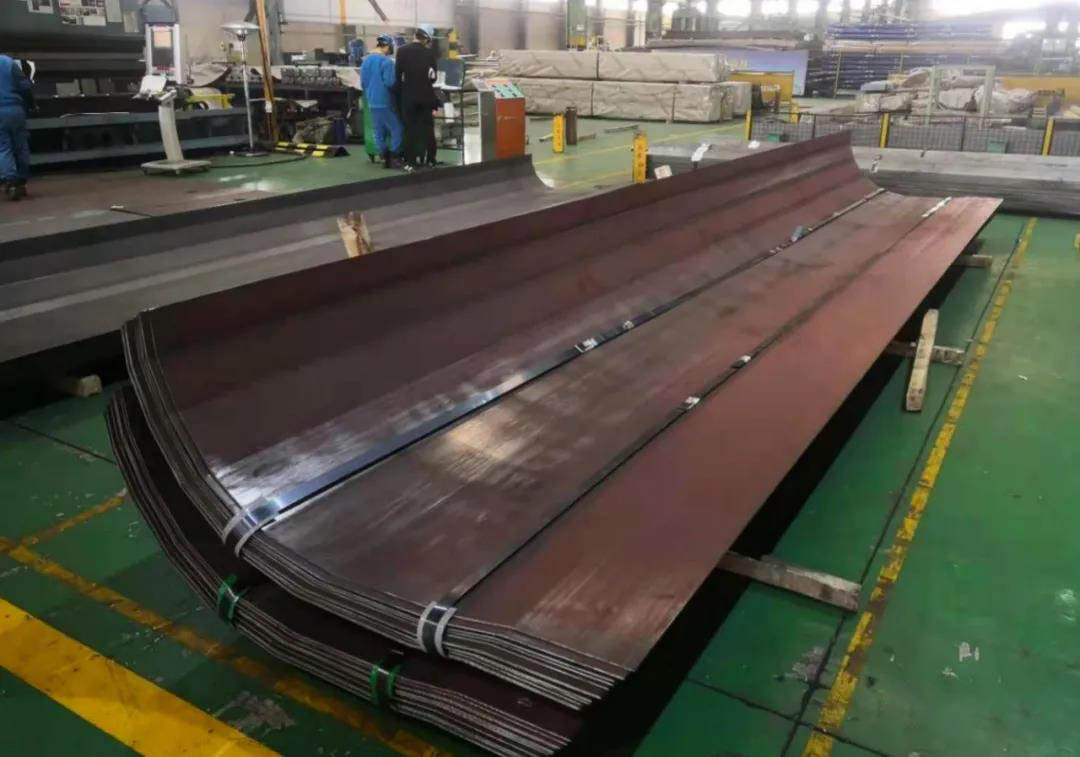 Side panels (or lateral plates) for dump trucks or dumper lorries. The material is NM450TP.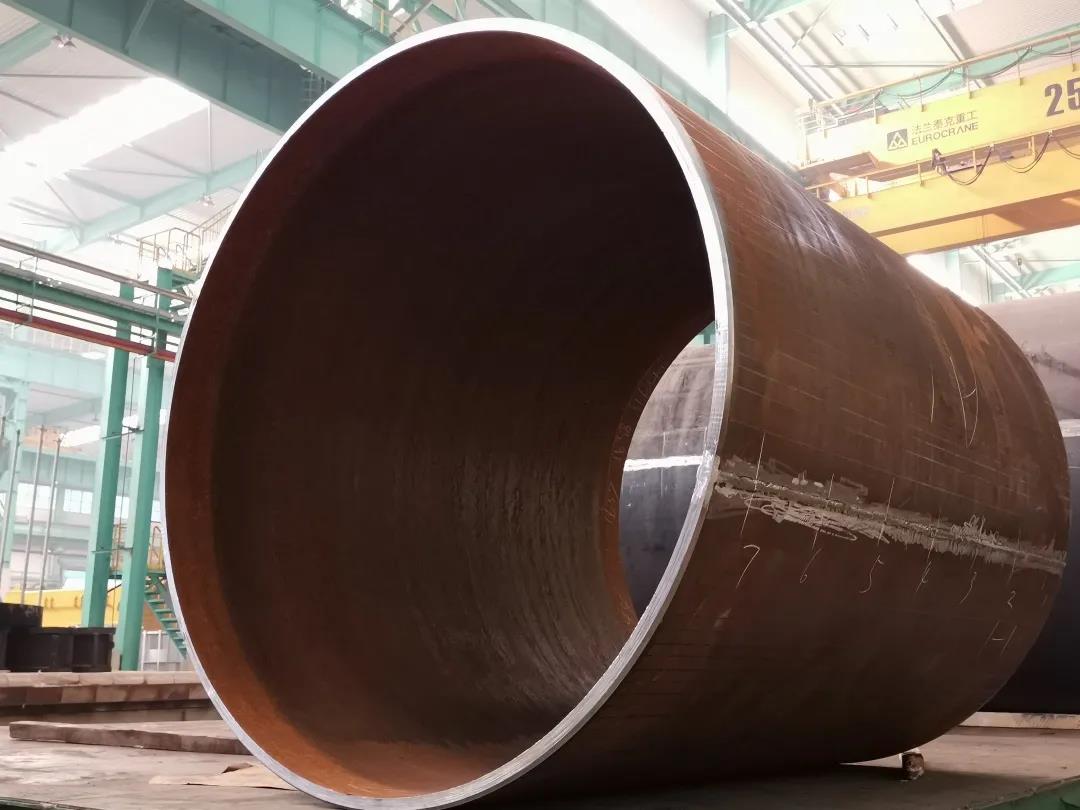 Vibratory drums for road rollers or steamrollers. The material we choose is NM360-YJL, a special wear-resistant steel with strength up to 1100Mpa. It can replace the normal type carbon steel Q345 and greatly increase the lifespan of road rollers' vibratory drums.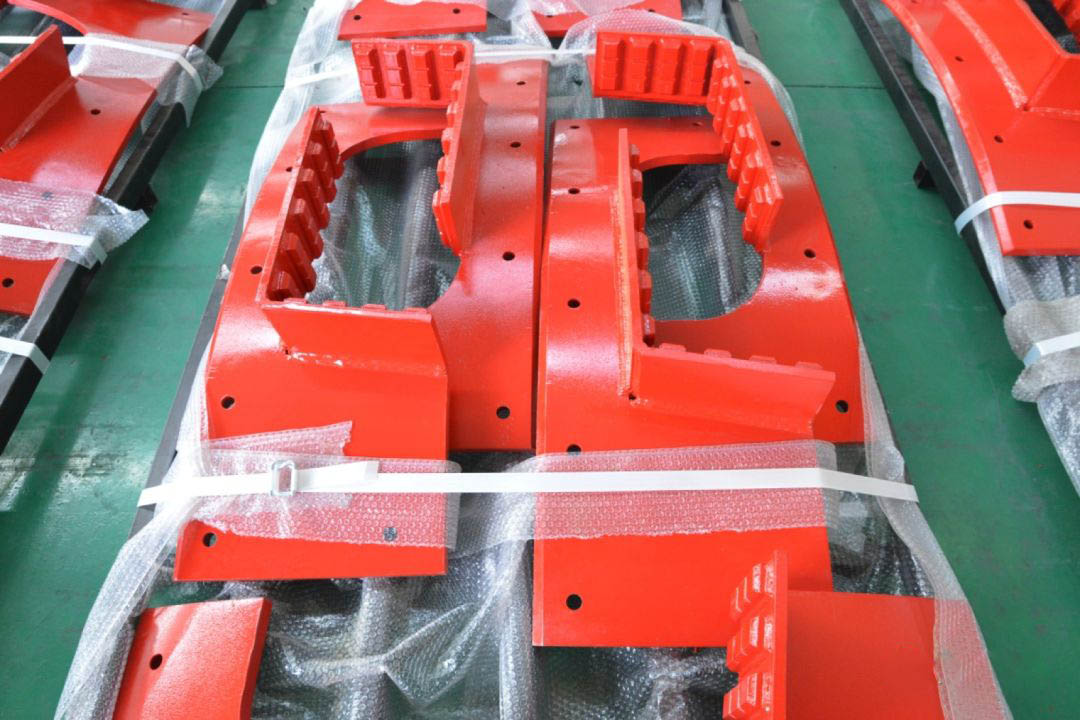 Steel parts for mining equipment. The material is abrasion-resistant steel NM400.