Machining and fabrication of structural components for industrial heating furnace X6CrNiTi18-10.
Stainless Steel grade 321, also named as UNS S32100, or En 1.4541 (DIN X6CrNiTi18-10), is heat resistant, titanium stabilized, austenitic alloy which is widely used in annealing covers, high-temperature tempering equipment, diesel and heavy-duty automotive exhaust systems, firewalls, stack liners, boiler casings, welded pressure vessels, jet aircraft components, radiant super heaters, bellows, and oil refinery equipment. It is similar to Type 304 but with a titanium addition of at least five times the carbon content. This titanium addition reduces or prevents carbide precipitation during welding and in 800 – 1500 °F (427 – 816 °C) service. It also improves the elevated temperature properties of the alloy.
Here pictured components are made of stainless steel 321, used in a kind of aluminum ingot heating furnace to be installed in Germany.
The job involved several different thicknesses and sizes of stainless steel plates, which are welded together to form structural components. The welding seams are required to have an NDT test at DIN norms. And the whole component after fabrication shall be put on horizontal milling CNC for milling so as to have good roughness, parallelism, and perpendicularity of each assembling surfaces.
We are a professional company to undertake all kinds and all sizes of metal fabrication works, as well as precision machining works. We have certificates of API,ASME,ABS,DNV,LR which enable us to carry out most of the fabrication works of pressure vessels,tanks,pipe lines for the industries of Petrol,Gas,Chemical,Energy,Ship construction,Bridge Building and Machinery Manufacturing.
High quality, low cost, fast delivery, and good service are our commitment and edges. Based in China,help for all the world.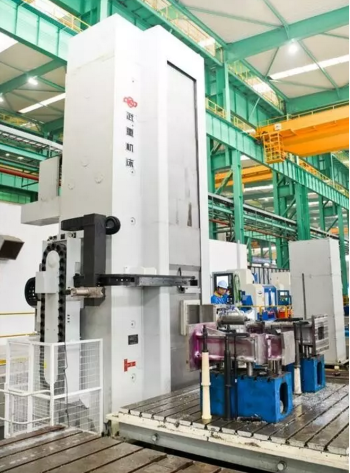 Heating furnace components being machined on horizontal milling and boring CNC