General description
Dual-phase stainless steel, commonly known as Duplex stainless steel (DP steel or DSS),is a low-Nickle (4.5-6.5) stainless steel, because of its metallurgical structure containing two phases, ferrite (body centered cubic lattice) and austenite(face-centered cubic lattice) each with about 50% percentage respectively, it takes good characteristic from both austenitic and ferritic, ie. has good mechanical properties, corrosion resistance, and also weldability.
Historical development and its advantage
The DSS was firstly produced in USA from 1940s,and is in its 3rd generation as of 2020 now. the biggest advantage of DSS is high yield strength up to 400-550Mpa, almost double of usual single phase stainless steel. Hence,it can save usage of steel,therefore reduce general cost.
The 2nd biggest advantage is good performance in anti-corrosion, especially in the bad circumstance such as sea water, Chloridion rich area, compared to usual austenite stainless steel, DSS has much better resistance in pitting corrosion, crevice corrosion, and stress corrosion, and also its fatigue of corrosion is also very low, that only high alloy austenite stainless steel can compete with it.
Other advantages of DSS are:
l High ultimate tensile strength(UTS, enabled by the martensite),with low initial yield stress (provided by the ferrite phase)
l Low yield to tensile strength ratio (yield strength / tensile strength = 0.5) which is good to prevent sudden failure of metal component.
l High initial strain hardening rates
l Good uniform elongation
l A high strain rate sensitivity(the faster it is crushed the more energy it absorbs)
Disvantages of DSS:
Compared to austenite stainless steel(ASS)
1 DSS is not as universal suitable as ASS,eg,can not be used under 250℃
2 Plasticity and toughness lower than austenite ASS, therefore its cold forming and hot forming performance is somehow inferior
3 There exists mid-temperature brittleness area, need to be careful to generate harmful phase during heat treatment or welding procedure
Nevertheless, thanks to its excellent advantages described before, DSS has become more and more popular to be used in heat exchangers and pipes for the industries of oil, nature gas, paper making, fertilizer, marine engineering, chemical, and has also become widely used to make structural components in the industries of bridge, air plane, ship, automotive etc.
Nowaday, there are mainly four types of dual-phases stainless steel (DSS) classified by alloy content,each country has different grade, below listed is that of six contries:
Duplex stainless steel(DSS) classified by alloy content

Type name

China

USA

Sweden

Germany

France

Japan

Low Alloy DSS

00Cr23Ni4N

UNS-S32304

SS2327
(SAF2304)

W.Nr.1.4362

UR35N

DP11

Mid Alloy DSS

00Cr18Ni5Mo3Si2
00Cr22Ni5Mo3N

UNS-S31500
UNS-S31803

SS2376(3RE60)
SS2377(SAF2205)

W.Nr.1.4417
W.Nr.1.4462

UR45N

DP1
DPS

High Alloy DSS

00Cr25Ni5Mo2
00Cr25Ni7Mo3WCuN

UNS-S32900
UNS-S31260

SS2324(10RE51)

W.Nr.1.4460
W.Nr.1.4501

329J1
329J2L

Super DSS

00Cr25Ni7Mo4N
00Cr25Ni6Mo3CaN

UNS-S32750
UNS-S32550

SS232(SAF2507)

W.Nr.1.4410
W.Nr.1.4507

UR47N+
UR52N+
We just finished a custom machining job– end rings for environment protection machine which is used in chloride circumstance.
The rings are made of Duplex stainless steel SAF 2205 with thickness 16mm.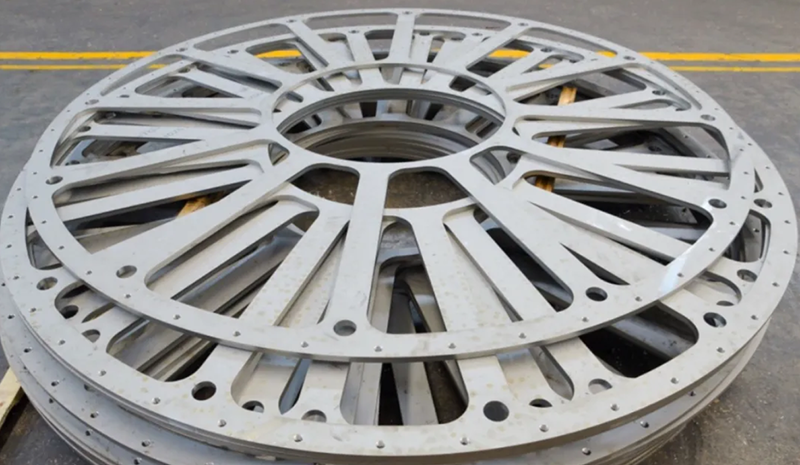 Here below is the chemical composition for SAF2205:
C≤0.030 Mn≤2.00 Si≤1.00 p≤0.030 S≤0.020 Cr 22.0~23.0 Ni 4.5~6.5 Mo3.0~3.5 N0.14~0.20
Compared with single phase stainless steel 304 and 316L, DSS SAF2205 has better performance, especially on anti-chloride corrosion.
Comparison between dule phases stainless steel SAF2205 and single phase stainless steel 304 and 316L

SAF2205

304

316L

Remark

Anti-chloride corrosion

>1000

47

152

Time got corrosion and breakage(h)
40%Cacl2, 100℃

PREN

35.4

18.4

25.9

Pitting resistence equivalent numbers, the larger the better

Anti-inter-crystalline corrosion

The best

Normal

Better

Anti-uniform corrosion
g.(m2.h)-1

0.021

57

12.1

20%H2SO4
60℃
100h

Anti-fatigue

The best

Normal

Better

Tensile strength
Rm((Mpa)≥

620

485

485

Rm((Mpa)≥
1020-1100℃ water quenching

Yield strength
Rp0.2(Mpa)≥

450

170

170

Rm((Mpa)≥
1020-1100℃ water quenching

Elongation
A50(%)≥

25

40

40

Rm((Mpa)≥
1020-1100℃ water quenching

Hardness
(Brinell/Rockwell)≤

290/30.5

187/90

187/90

Rm((Mpa)≥
1020-1100℃ water quenching

Thermal conductivity
w/(m. ℃)

19

18

15

20-100℃

Liner thermal expansion
(10-5/℃)

13.7

16

16

20-100℃

Weldability

Excellent
No need pre-heating, nor post-heating

Good,but can not have pre-heating or post-heating to rectify deformation

Might get crackle in high temperature

General performance

The best

Normal

Better
It is reported that a Seamless pipe made of SAF 2205has been used for an 850km long pipeline to pump the LNG across China from the western to eastern, thanks to its excellent mechanical properties and weldability.
Link to this article:Dual-phase stainless steel
Reprint Statement: If there are no special instructions, all articles on this site are original. Please indicate the source for reprinting.:Casting Wiki,THANKS!^^